Your holiday table is not fully dressed without an award winning bottle of WindRacer wine!
Image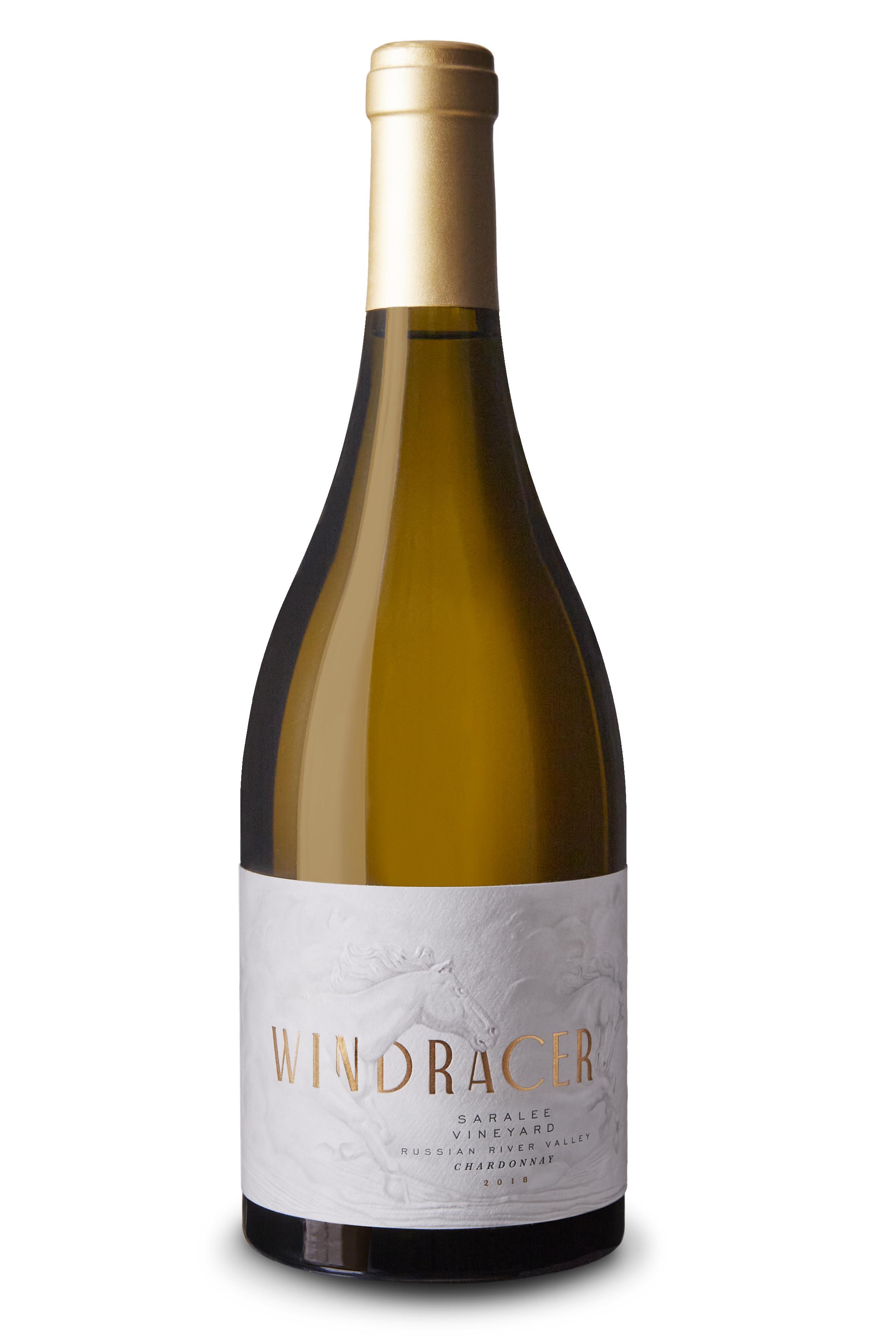 Saralee's Vineyard
Russian River Valley
Chardonnay 2018
$65 / 93 Points - Wine & Spirits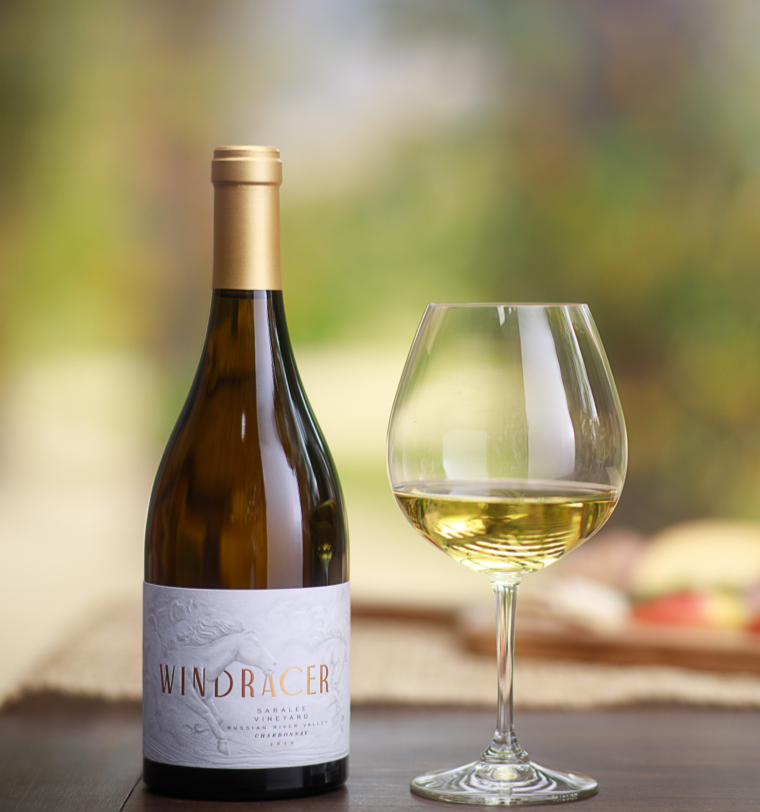 2018 Saralee's Vineyard Chardonnay
93 POINTS  WindRacer 2018 Saralee's Vineyard Chardonnay (Russian River 2018)
 
"Savory, shadowed by its oak and lees into supple complexities, this wine is layered in notes of baked apples and fresh autumn apples. Heady and rich, with a yeastiness that touches on a Saison beer, this wine continues to give more of itself the longer you spend with the glass." Joshua Green, Wine & Spirits, Oct 2021
$65 / 93 Points - Wine & Spirits
Overview
American Viticultural Area (AVA)
Russian River Valley, Sonoma County
Vineyard Selection
Block 45A, Block 45B
Clones
Chardonnay 96 & 17
Vineyard Director
Shaun Kajiwara
Wine Making Data
Varietal Composition
100% Chardonnay
Fermentation
French oak barrels
Barrel Aging
10 months, 38% new French oak
Total Case Production
265
SRP
$65 / 93 Points - Wine & Spirits
Image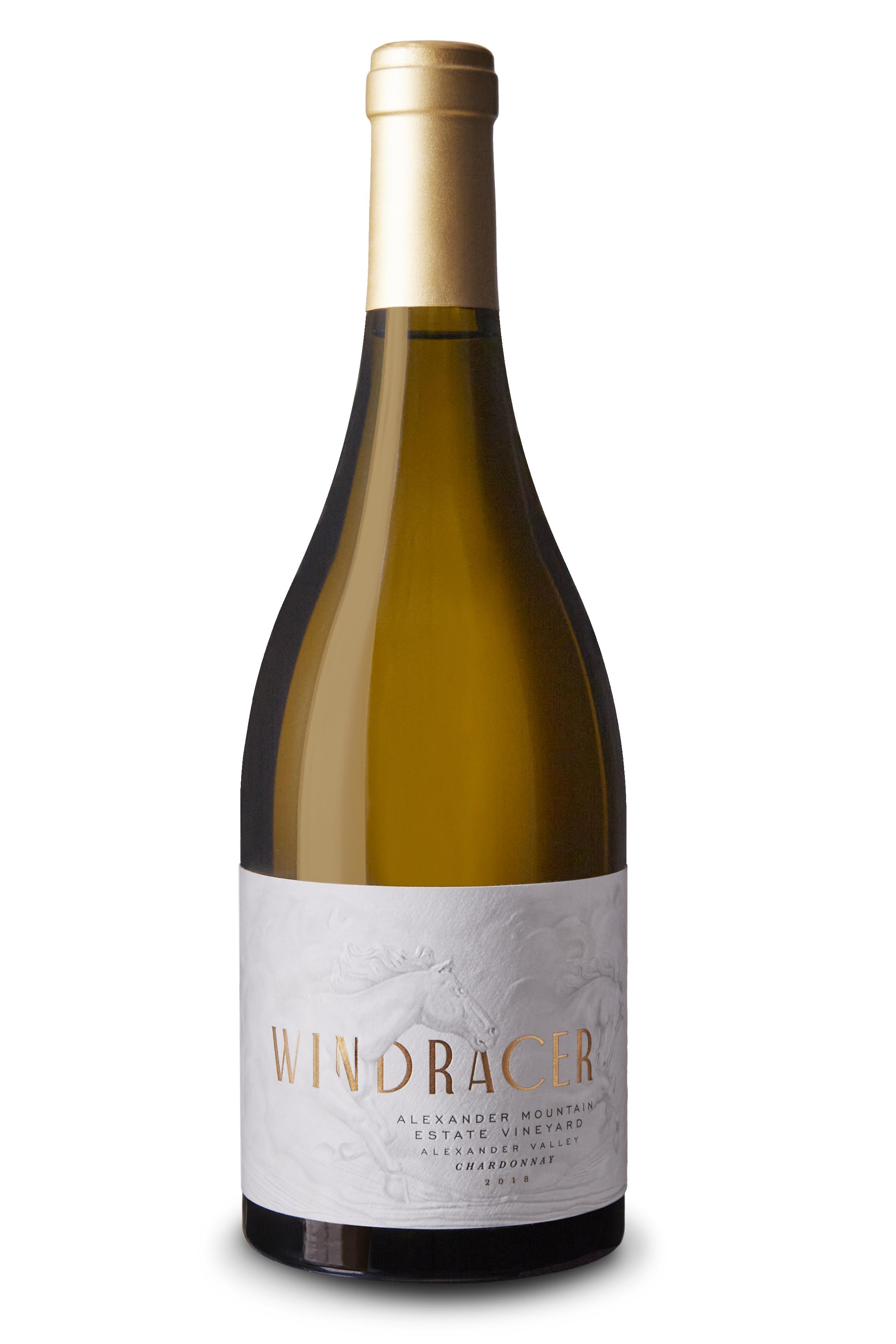 Alexander Mountain Estate Vineyard
Alexander Valley
Chardonnay 2018
$65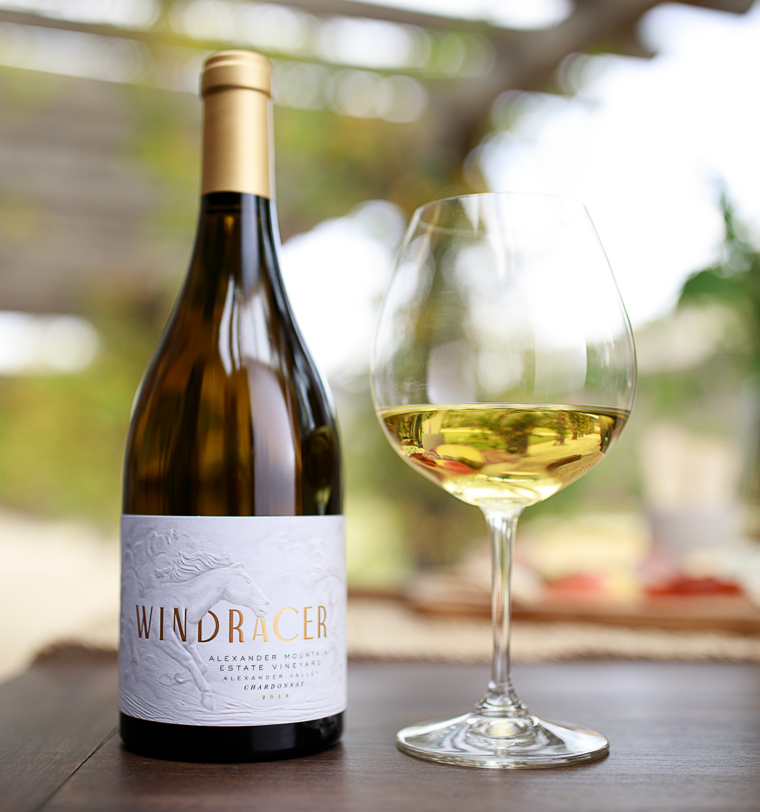 2018 Alexander Mountain Estate Vineyard Chardonnay
Grown on the western ridge of the Mayacamas Mountains, the grapes for the Alexander Mountain Estate Chardonnay benefit from complex soils and cool sunshine. Sitting just above the fogline, the vines receive a cooling influence from below and abundant sun from above. This idyllic combination allows for complex flavor development over a long growing season. A mixture of volcanic rock and sedimentary deposits, the diverse soils impart a distinctive minerality. Sourced from two of the older blocks in the vineyard, the wine is made of 100% Chardonnay. The mountain pedigree gives this wine its powerful aromatic expression and character. Yellow apples, fresh-squeezed Meyer lemon, toasted hazelnuts and vanilla bean give way to a soft, voluptuous texture across the palate. The finish is long and focused with stony minerality and acidity.
Overview
American Viticultural Area (AVA)
Alexander Valley, Sonoma County
Vineyard Selection
Block 238, Block 27
Clones
Chardonnay 4 & Upper Barn
Vineyard Director
Shaun Kajiwara
Wine Making Data
Varietal Composition
100% Chardonnay
Fermentation
French oak barrels
Barrel Aging
10 months, 33% new French oak
Total Case Production
208
Image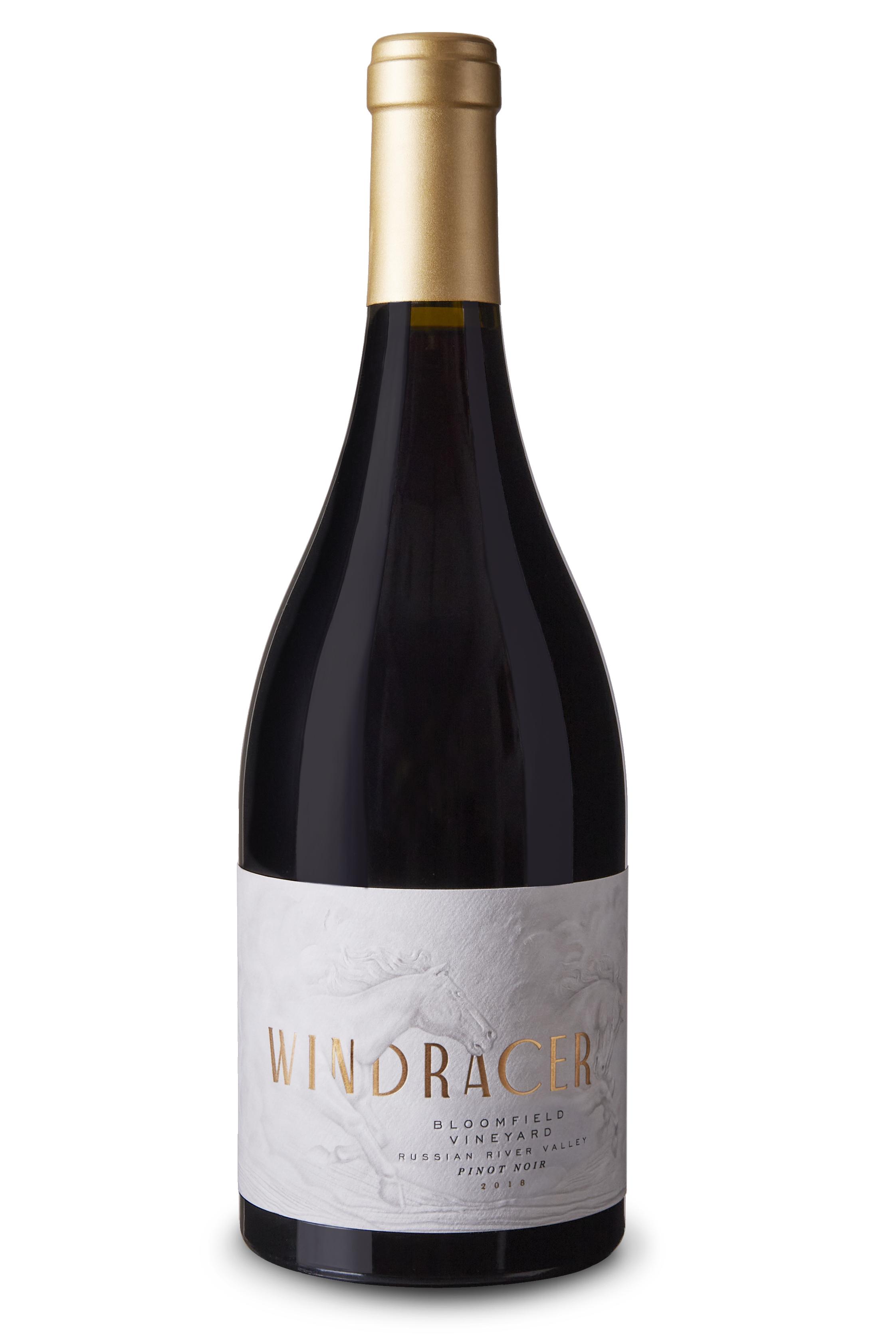 Bloomfield Vineyard
Russian River Valley
Pinot Noir 2018
$75 / 94 Points - Wine Enthusiast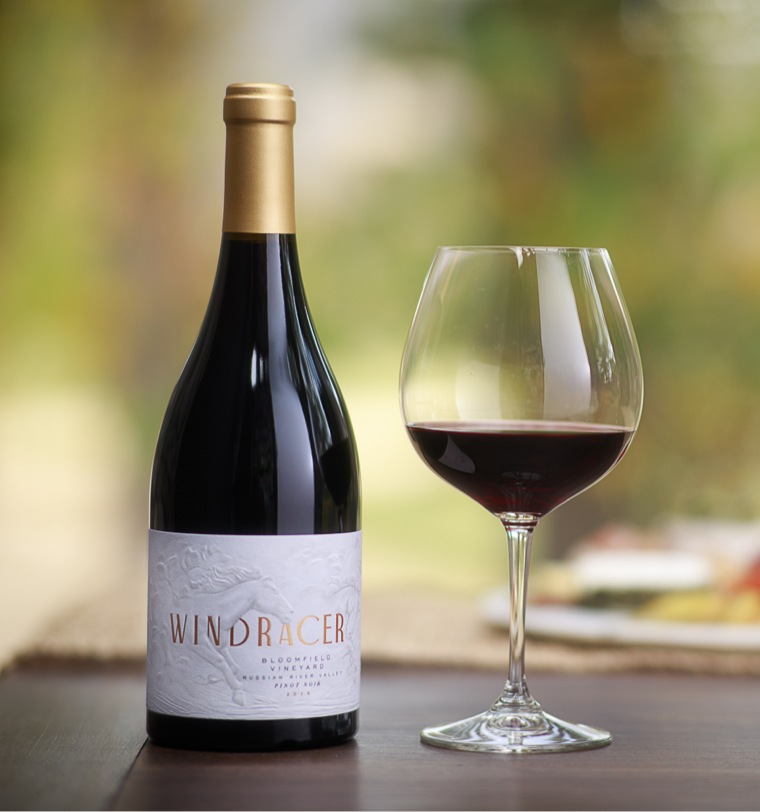 2018 Bloomfield Vineyard Pinot Noir
94 POINTS WindRacer 2018 Bloomfield Vineyard Pinot Noir (Russian River Valley)
"From a cool, coastal site, this is a wild, tangy and savory wine, with highlights of black tea, forest and stem. Crisp red fruit and citrus adorn the tannic midpalate. It shows great complexity and intensity as it finishes in lashes of baking spice." — Virginia Boone, Wine Enthusiast, Nov 2021
$75 / 94 Points - Wine Enthusiast
Overview
American Viticultural Area (AVA)
Russian River Valley, Sonoma County
Vineyard Selection
Block 13
Clones
Pinot Noir 777 & 667
Vineyard Director
Shaun Kajiwara
Wine Making Data
Varietal Composition
100% Pinot Noir
Fermentation
French oak barrels
Barrel Aging
10 months, 38% new French oak
Total Case Production
110
SRP
$75 / 94 Points - Wine Enthusiast
Image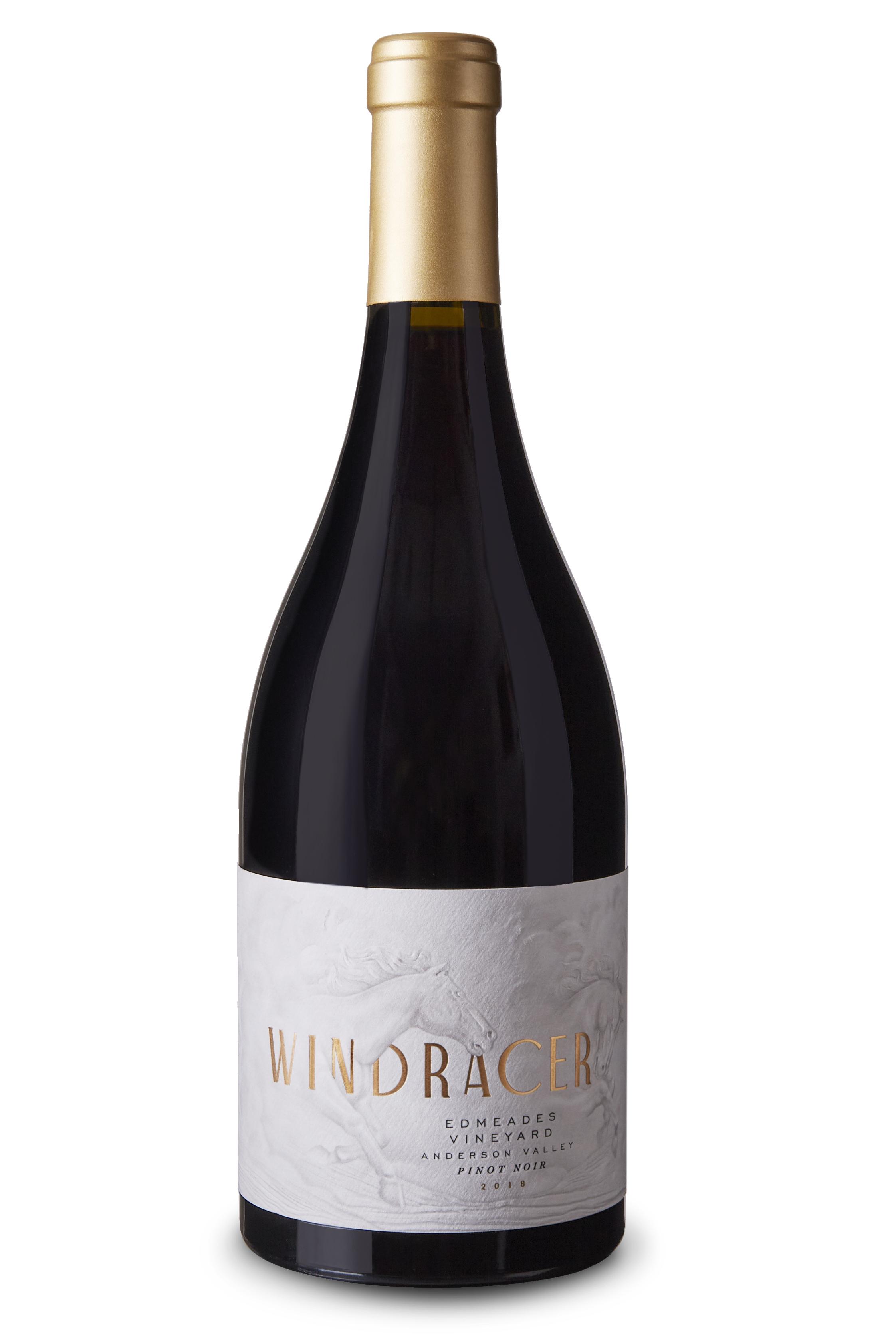 Edmeades Vineyard
Anderson Valley
Pinot Noir 2018
$75 / 94 Points - Wine Enthusiast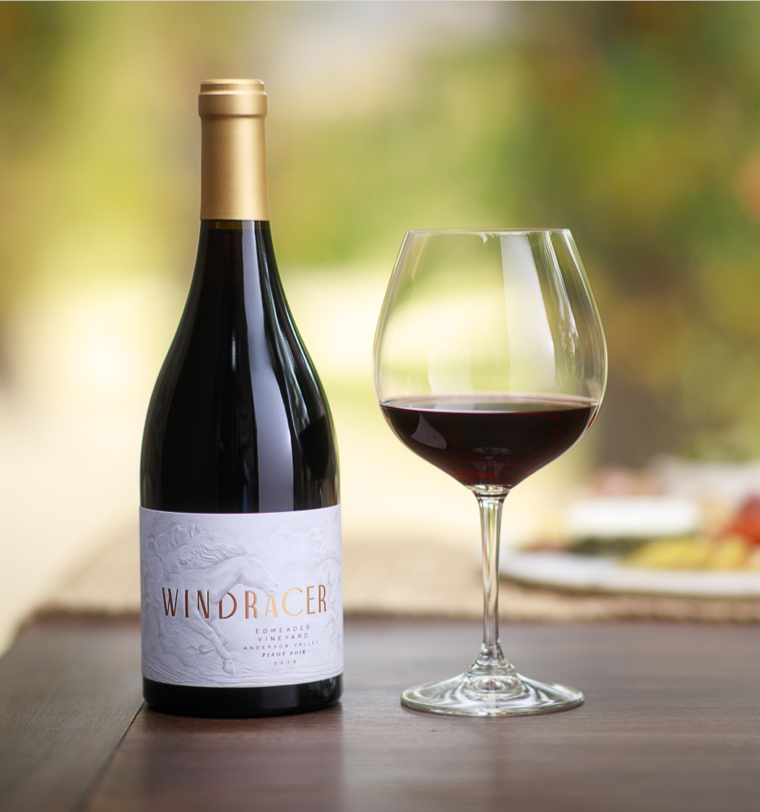 2018 Edmeades Vineyard Pinot Noir
94 POINTS WindRacer 2018 Edmeades Vineyard Pinot Noir (Anderson Valley)
"Gorgeous, layered fruit flavors come with a seamless, silky texture in this full-bodied but absolutely sleek and polished wine from one of Anderson Valley's oldest vineyards. Fresh strawberries, red cherries, black cherries and a hint of rhubarb give it a great core, to which light tannins and a pleasing sense of concentration add the finishing touches." —Jim Gordon, Wine Enthusiast, Nov 2021
$75 / 94 Points - Wine Enthusiast
Overview
American Viticultural Area (AVA)
Anderson Valley, Mendocino County
Vineyard Selection
Block 14, Block 15
Clones
Pinot Noir 777 & 667
Vineyard Director
Shaun Kajiwara
Wine Making Data
Varietal Composition
100% Pinot Noir
Fermentation
French oak barrels
Barrel Aging
10 months, 42% new French oak
Total Case Production
237
SRP
$75 / 94 Points - Wine Enthusiast
Image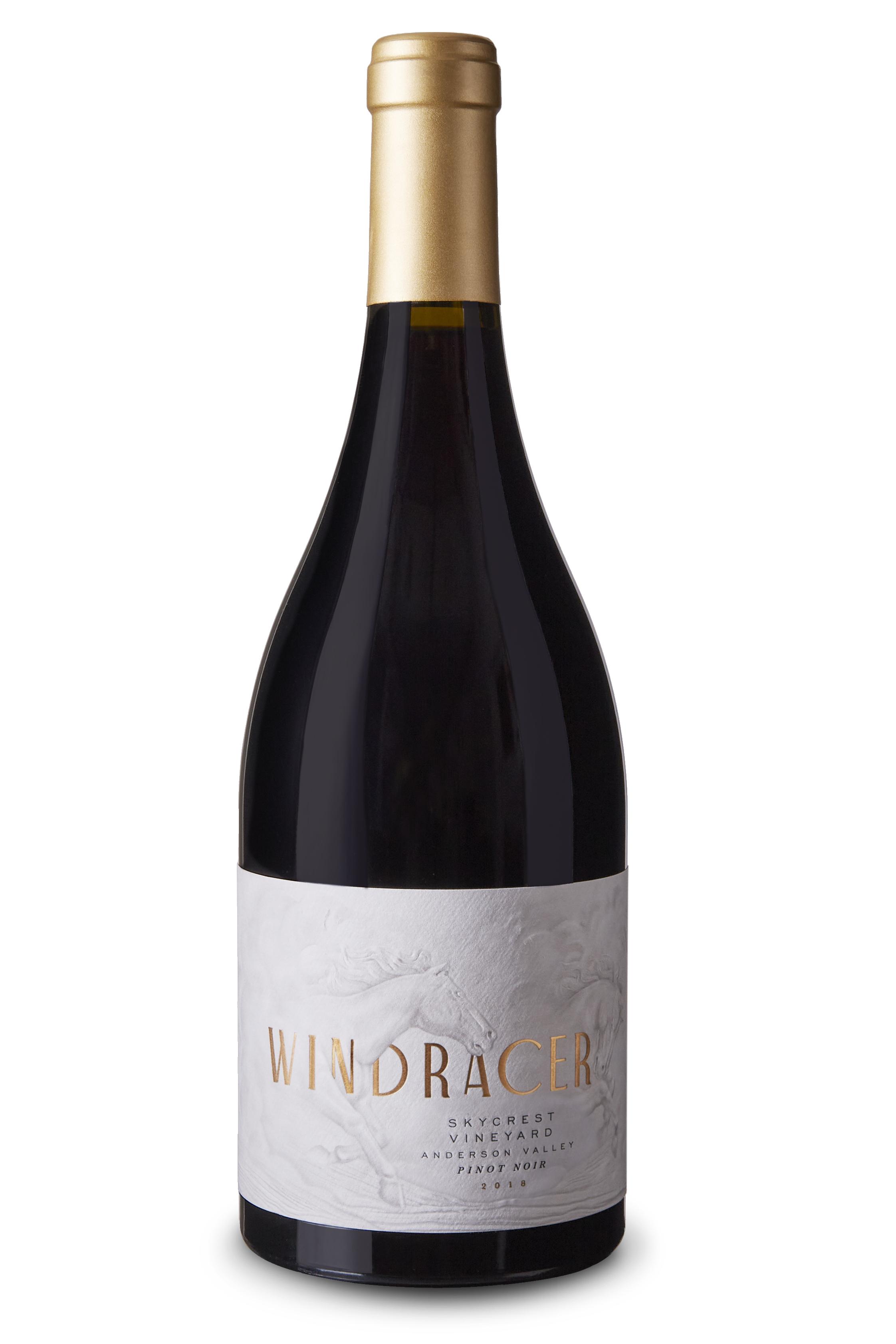 Skycrest Vineyard
Anderson Valley
Pinot Noir 2018
$75 / 96 points - Wine Enthusiast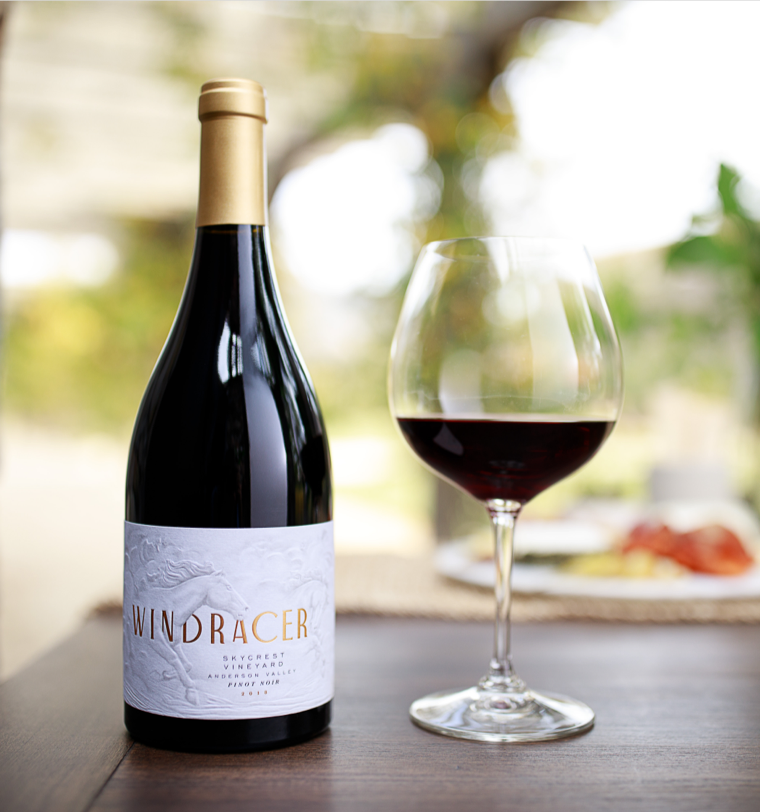 2018 Skycrest Vineyard Pinot Noir
96 POINTS WindRacer 2018 Skycrest Vineyard Pinot Noir (Anderson Valley)
"Great fruit concentration, moderate tannins and subtle savory, spicy accents make this full-bodied wine quite memorable. A partnership between Barbara Banke of Jackson Family Wines and Peggy Furth, formerly of Chalk Hill winery, the wine is focused around black cherry, blackberry and rhubarb, while hints of cedar, forest floor and black tea slowly reveal themselves. Best from 2025." Cellar Selection. —Jim Gordon, Wine Enthusiast, Nov 2021
$75 / 96 points - Wine Enthusiast
Overview
American Viticultural Area (AVA)
Anderson Valley, Mendocino County
Vineyard Selection
Block 42, Block 49
Clones
Pinot Noir 777 & 667
Vineyard Director
Shaun Kajiwara
Wine Making Data
Varietal Composition
100% Pinot Noir
Fermentation
French oak barrels
Barrel Aging
10 months, 33% new French oak
Total Case Production
206
SRP
$75 / 96 points - Wine Enthusiast
Image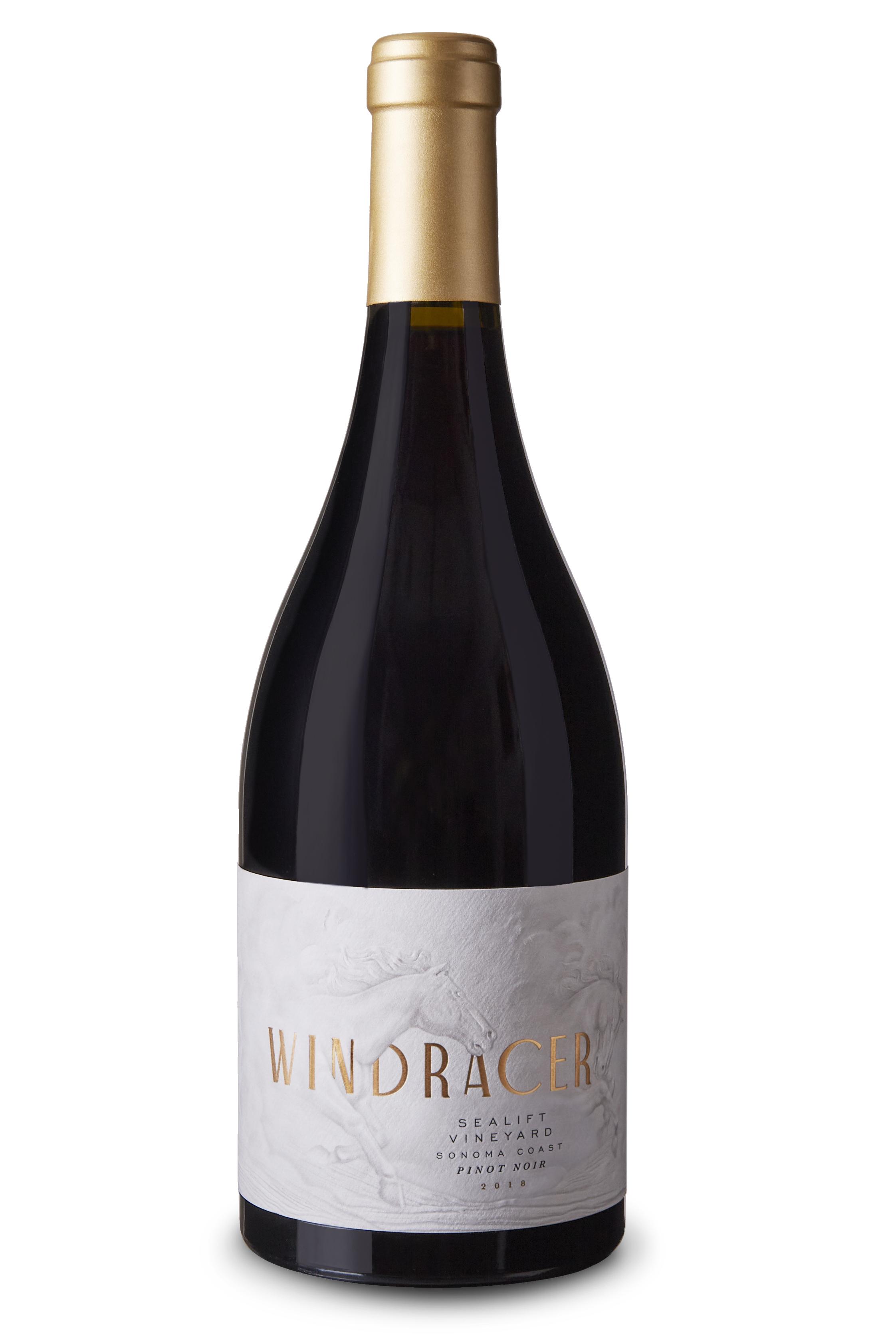 Sealift Vineyard
Sonoma Coast
Pinot Noir 2018
$75 / 93 Points - Wine Enthusiast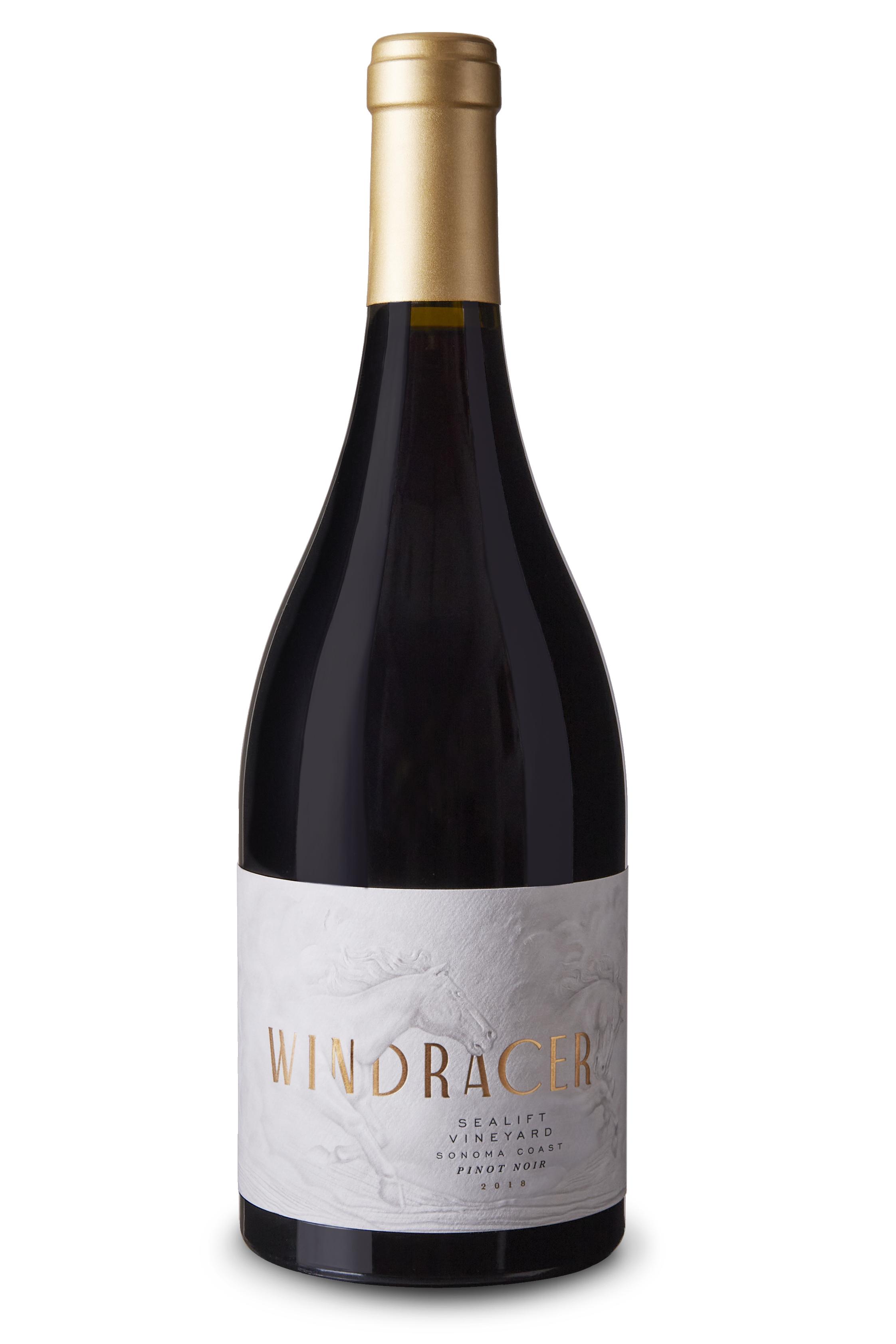 2018 Sealift Vineyard Pinot Noir
93 POINTS WindRacer 2018 Sealift Vineyard Pinot Noir (Sonoma Coast)
"Made in a generous, concentrated, full-bodied style with sizable tannins, this wine is juicy yet lush in texture. Ripe black cherries and blackberries ride along a palate of forest floor, clove and cola undertones." —Virginia Boone, Wine Enthusiast, Nov 2021
$75 / 93 Points - Wine Enthusiast
Overview
American Viticultural Area (AVA)
Sonoma Coast, Sonoma County
Vineyard Selection
Block 18B, Block 20
Clones
Pinot Noir 777 & 667
Vineyard Director
Shaun Kajiwara
Wine Making Data
Varietal Composition
100% Pinot Noir
Fermentation
French oak barrels
Barrel Aging
10 months, 42% new French oak
Total Case Production
237
SRP
$75 / 93 Points - Wine Enthusiast